Gmail's POP3 servers are not standard POP3 servers, so you need to set your Gmail settings appropriately, and, preferably, understand how Gmail implements POP3.
Configuring Gmail
In your Gmail account, go to the account settings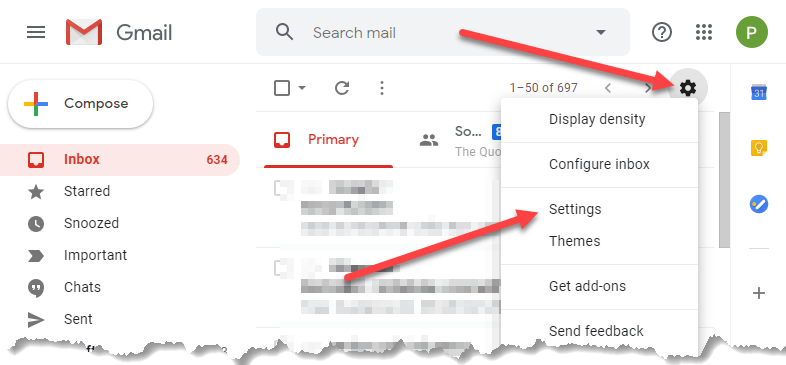 Then go to the Forwarding and POP/IMAP tab and look at the POP download section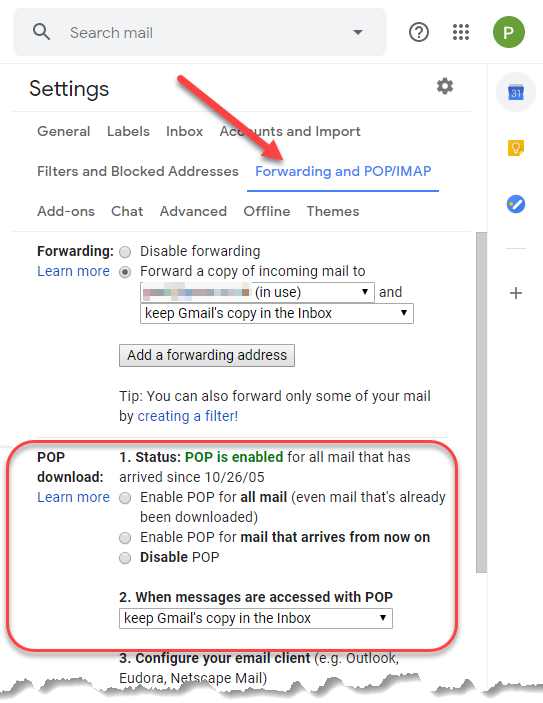 Check the option which says "Enable POP for all mail (even mail that's already been downloaded)", and press the Save Changes button at the bottom of the settings.
See these Gmail articles for more information:
Note that Gmail tracks which messages have been downloaded (unlike a standard POP3 server), so may behave differently from what you expect if you are used to a normal POP3 server.
If you are using VPOP3 to download messages and another POP3 email client, you will need to use 'Recent Mode' in Gmail (see below), otherwise, VPOP3 won't see the messages that the other email client has downloaded, and vice versa. Also, you will need to set all email clients to NOT delete messages (or keep them for more than 30 days) otherwise Gmail will move the messages to 'Trash' and other email clients will not be able to see them (this is explained in the above Google articles)
Configuring VPOP3
In VPOP3, go to Mail Connectors and choose 'Add New Collector'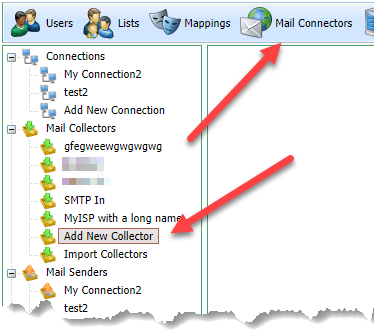 Page 1
In 'Mail Collector Name' put a suitable name
Choose 'POP3 Download'
Press Next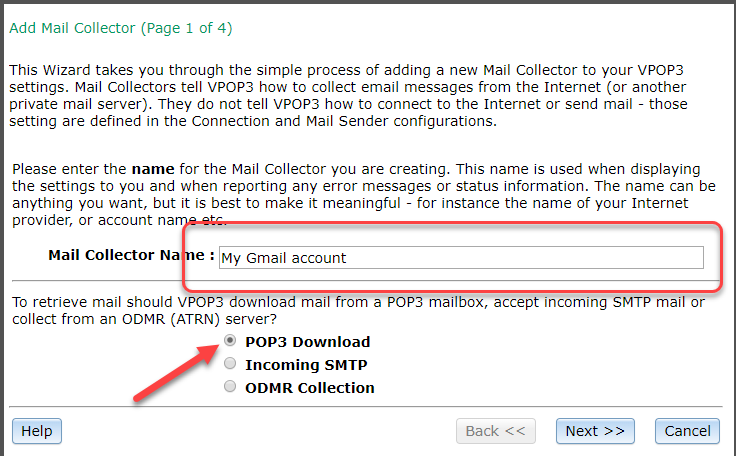 Page 2
In POP3 Server Address enter pop.gmail.com
In POP3 Account Name enter your gmail email address
In POP3 Account Password enter your gmail password
In POP3 Authentication Method choose Plain Text
In Session Encryption choose SSL
Choose Send all incoming messages to a specified user or list
Press Next
Note, if you want to use Gmail's "recent" mode, then add recent: before your email address in the POP3 Account Name box, eg recent:my.email.address@gmail.com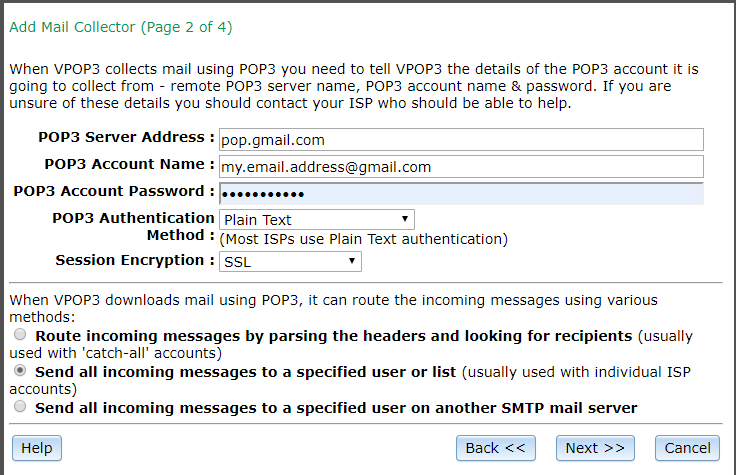 Page 3
In Target user/list choose the user or list where you want these messages to go
Leave Do not download messages bigger than to 0kB (Gmail's non-standard behaviour may make that option not work as expected)
If you are using Gmail's "normal mode", the Leave messages on the POP3 server option will be ignored by Gmail because it will hide downloaded messages anyway
If you are using Gmail's "recent mode", then Leave messages on the POP3 server should be set to a number larger than 30 days
Press Next

Page 4